Best Phone Sanitizer And Charger To Buy This Year
We're using our smartphones every minute of the day and exposing them to a mob of germs. It makes a lot of sense because we carry them wheresoever, on public transport, shopping and even in bathrooms. Unnoticeably, our phones get touched frequently and we even put them next to our faces so often. This points to the fact that our lifeline is gathering all the bacteria and germs throughout the day. The daunting part is, that we slide them into our pockets and bags, offering them a breeding ground without giving a thought. Imagine a Petri dish where bacteria are growing and chilling without any fear.
Of course, you can't dump your phones around or immerse them in water because it has become a necessity for everyone regardless of age and ethnicity. But did you ever think they could cause many health problems? Swabbing the phone with a lint-free cloth or alcohol pad might be effective to some extent but requires a much more careful hand. A little negligence and excess moisture can affect them seriously by getting into the ports, making them more liable to smear or smudges.
Improve your phone hygiene with the handheld and affordable piece of technology called Ultraviolet rays. Yes, we're talking about phone sanitizer and charger that utilizes UV rays to disinfect smartphones by killing the microbes at the molecular level-breaking the DNA. Manufacturers are hopping around new technologies and rolled out unbelievable phone sanitizers with great features. But the truth is they are stepping on the toes of PhoneSoap, which introduced the first phone sanitizer and charger in 2016. There's nothing wet about cleaning your phones anymore, just invest your penny and get the most out of these gadgets. Let's dig deep to explore more about phone sanitizer and charger.
Read Also: Nur-E 75, Pakistan's First Electric Car Prototype
Best Phone Sanitizer And Charger
PhoneSoap 3 UV Sanitizer Dual Wireless Charger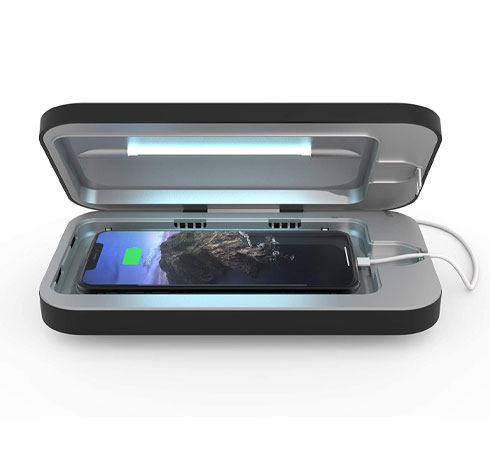 This newest model is praised for its advanced dual functionality, size, and pretty stylish design. These attributes allow the users to sanitize the phone of any size and get it to charge simultaneously. It claims to remove 99.9% of all the bacteria and germs from almost anything, including car keys, banking cards, goggles, makeup essentials, and more. Amazingly, the UV-C bulbs that are twice in number as their predecessors help sanitize the phone's entire surface in just 5 mins. With half the disinfection time, it keeps everyone healthy and safe from unwellness and health issues.
This versatile and handy product provides USB-A and USB-C charging capabilities to stay connected while on the go. It has colours for everyone, so pick the perfect match for your office or home without sacrificing the aesthetics. If you want to go for a neutral shade, white or black would be a perfect choice, otherwise, you can check some eye-catching variations like gold, orchid, and aqua upon your order. What we love the most are the added suction cups to keep the phone in the correct position and prevent it from falling down.
Pros
Portable/Lightweight
Safe for human health
Effective against all bacteria and germs
Cons
A little more expensive than the standard options
Homedics UV Sanitizer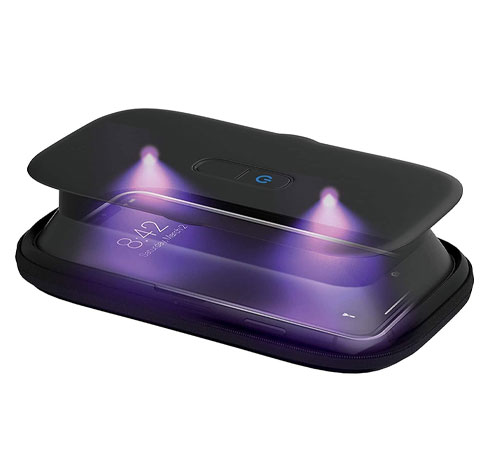 Our Budget-friendly and favourite all-rounder because it is offering all the main perks! If you don't want to spend a fortune on sanitization, then Homedics is the best bet for this purpose. Its sleek, pop-up design is stealing the show from the day it came on the market. It's hard to beat Homedics in terms of its portability, price, impressive battery life, and compatibility because it's all magical. The makers claim it knocks out 99% of germs using two UVC bulbs on the interior to actively bathe the phone in 30 seconds. This travel-friendly gadget would fit in any hand carry due to its collapsible design with a safety lock to prevent unnecessary UV exposure.
As a bonus, it offers multiple colour variations to match your other accessories. Despite your smartphones, it has enough space to disinfect small electronics and makeup tools. A fantastic choice that nestles comfortably into the table and offers lightning-fast sanitization with maximum coverage and effectiveness. Lastly, it is safe to use around babies or pets as it doesn't contain any harmful chemicals like mercury, etc.
Pros
Cost-effective
No harmful chemicals
Promises 70 uses per charge
Max 1 min sanitizing time
Samsung UV Sanitizer-Qi wireless charger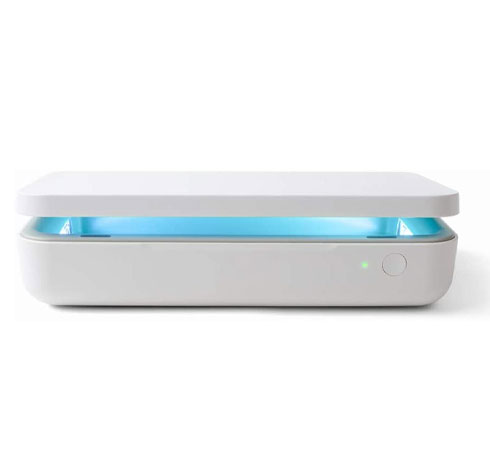 Samsung was the last to adopt the technology but it's better too late than never. Finally, the brand rolls out a phone sanitizer that's boasting hundreds of reviews from users because of its versatility and functionality. Although the product is designed while keeping its Samsung phones and gadgets in mind but is super compatible with many android phones too. The sleek and intuitive design allows users to tote it around everywhere easily- either from office to home or from the kitchen to the bedroom, it's your all-time partner.
Another big plus is the indicator that will automatically shut the case once the cleaning is done. It will keep you and your phone germ-free in 15mins along with a wireless charging feature. The laboratory-tested LED lights give peace of mind by reaching every inch and blasting 99% germs even faster including E-coli and staphylococcus. Besides that, the nicest feature to have is the Qi wireless technology that exponentially boasts its importance by giving a fast charge on the go.
The real magic lies under the compact chamber's interior of this phone sanitizer and charger. The rubber stoppers and magnetic covers support the sanitizer against impact and keep it sealed during the cleansing process, making it quirky among standard options.
Pros
Laboratory-proven
Budget-friendly
Effective against harmful pathogens
Cons
Takes 10mins to sanitize the phone
Utility is limited
Read Also: Tesla Pi Phone: Rumors Or A Game Changer?