Best Wireless Mobile Game Controllers
Imagine shooting an arrow with a bow in your favorite game and actually feeling it. Woah, this is what mobile game controllers exactly do. Playing games on smartphones have improved significantly over time and continue to be enhanced. Luckily, most devices support multiple gaming consoles for a rich gaming experience without even covering half of the mobile screen.
Well-built controllers let you play more nimbly and make the process more responsive while providing simple controls. It's also shaped to fit your hand and designed for wireless use, increasing flexibility and comfort. Some mobile game controllers really pack a punch at a reasonable price. Also offers features that are hard to find even in PC game controllers.
We've listed some of our picks regarding mobile game controllers, offering tactile controls and breakneck responsive times. You'll find some controllers have Bluetooth enabled while some support USB-C and lightning connections.
Popular Recommendations: Best Ergonomic Wireless Mouse On Budget
GameSirX2 Wireless Game Controller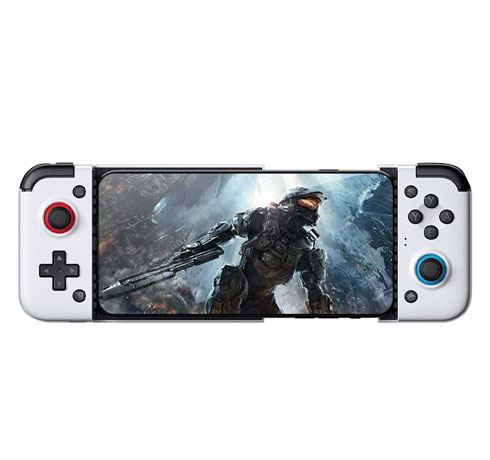 This model has undoubtedly taken over the gaming industry and built a new realm around it. From its, split-design, subtly textured back, and satisfying buttons, everything looks appealing and adds convenience to gameplay. It has some excellent features, mainly its compatibility with both Android and iOS makes it a compelling choice for most gamers. The greyish-black color scheme blends perfectly with almost every phone and creates an immersive look.
Hands down, the best it offers is a lag-free connection, and an easy Bluetooth setting to get it started in no time. Another big plus is the easy-to-install GameSir app that displays a list of games for a smooth hours-long gaming session. The GameSirX2 plug-and-play controllers are thoughtfully designed to adjust any phone size and feel comfier in the hands to enjoy uninterrupted games.
Another great feature to mention is the two LEDs with a blue and green light that indicates the Bluetooth connectivity and power respectively. A hard-shelled carrying case to protect it from damage, decent battery life, and some additional thumbstick covers are appreciative and go beyond the user's expectations.
Backbone One Gamepad for iPhone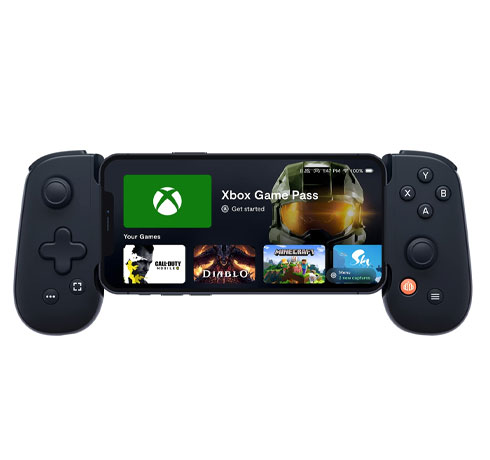 Undeniably, backbone one is taking the crown for the best iOS mobile controller from the crowd. A more reliable plus comfortable choice for gamers with so many extra features. It lets you play games in seconds just after snapping the phone into the controller and all done. The first thing comes first, starting from its snap-to-fit design which holds iPhone back from 6s to onwards.
Moreover, it offers great features you could ask for in a mobile console: a dual joystick, four buttons, an a-d pad, and triggers. The lightning port aids in connecting the phone to the controller, also giving it full gaming functionality. Backbone-Next level play is the companion app that gives broad gaming access to get the most out of some epic games including Minecraft, Call of duty, and more.
Not only this, but it also enables the users to take screenshots or record screens during gameplay which is amazing. Furthermore, holding the backbone One and playing games felt the same as on the play station. The fully extended controller, responsive, tactile buttons, and soft rubber grip add an additional layer of playability for most players. Lastly, it is compatible with Xbox game pass, PS remote play, Amazon Luna, Steam link, and stadia.
Razer Kishi Mobile Game Controller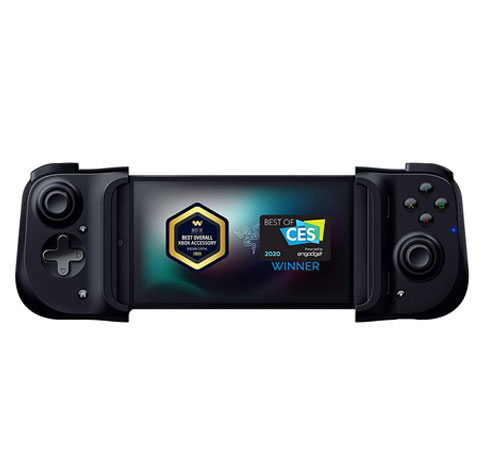 This version is arguably the best of its kind yet. As it is bridging the gap between console gaming to smartphones. More similar to Backbone One (especially the button layout) but improves much on features and design from its predecessor. Snapping the phone into the controller is way easier, just extend the stable slide bridge and insert your phone inside. The microswitch buttons feel more satisfying to click along with the triggers and bumpers that add a rich gaming experience for its users.
It is no surprise that the newest model has a more expansive design and interchangeable gaskets to accommodate phones of different sizes and thicknesses with ease. Unlike its competitors already popular in the market, Kishi V2 works seamlessly with iOS and Android devices without any fuss. You can also remap buttons to live stream on Youtube by connecting to the companion Nexus app.
Simply incredible look, responsive controls, and far-fetched portability make a huge win. Adding one more feature, the 4 Led lights for showing the status and tracking the paired devices regardless of their number. It brings gaming to the next level with a decent battery life over a long period of time.
Read Also: Best Dual Drive USB-C Memory Sticks