Best Dual Drive USB-C Memory Sticks
It is a widespread fact that the current generation has a particular passion for geeky gadgets. USB C Memory Sticks have been on the market since 2012 but now gaining more attention in everyone's life. This is because they have made a big leap in design, performance, storage, and price.
Transferring photos, and videos and freeing up your mobile space is not a problem anymore. Do it in a blink of an eye with budget-friendly and ergonomic dual flash drives! These elegant-looking USB C Memory Sticks feature elevated speed, exceptional performance, expanded storage, and more. These offerings are way much more than the expensive hard drives that add nothing to everyday uses. The twofold increase in speed and double connectivity makes them a valuable asset without any additional cables or fuss.
Popular Recommendation: Best In-home Security Camera-Video Doorbells
SanDisk Extreme pro 128GB USB 3.2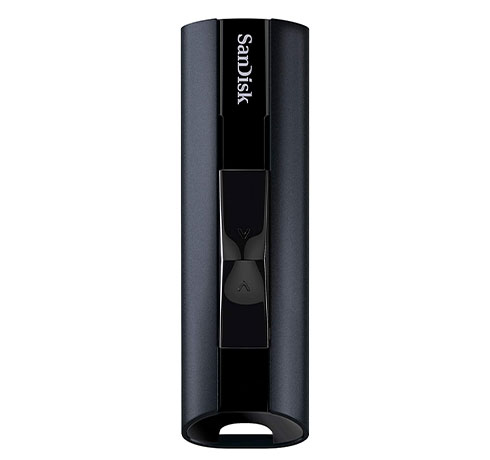 Extreme Pro is striking the optimum balance of storage and speed at a competitive price. The drive has a solid-state design that offers everything except the key ring on top. It provides durability due to the dark aluminum coating and plastic lever edging. It comes in simple yet elegant packaging for easy use without worrying about wear and tear.
Moreover, drag and drop options, intuitive interface, multiple capacity ranges, and blazing fast speed makes it our top pick among its rivals. The latest model has upped the read speed up to 420mbps and write speed up to 380mbps with a whopping capacity of 256 GB.
Surprisingly, it let you work with peace of mind by offering 128-bit AES secure access file encryption to recover lost data and files. The company claims SSD speed and a transfer of 4k full-length movie in 15 seconds but it didn't reach that speed.
Samsung Duo Plus Flash Drive 128GB/400MB/s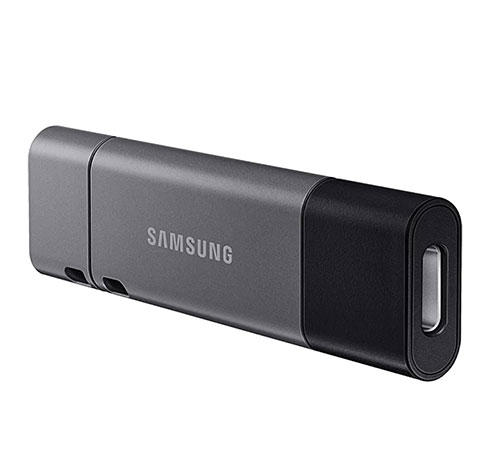 This sturdy, budget-friendly combo is all you need to free up your space without bumps and bangs. The tough and trusted design, whopping speed, dual functionality, and wide storage flash drive are a lifesaver for many. No need to worry about having new or 10 years back gadgets because it provides a solution for both.
The USB-Type C on one end and Type-A adapter slotted to the opposite end makes it cross-compatible with devices for rapid speed and expanded storage. Taking the numbers into account, 128GB storage, 43.8 Mbps write speed, and up to 300Mbps read speed is fairly huge for a flash drive to transfer images and videos. Moreover, the USB-C connectivity doubles up its functionality and performance to the next level.
So, ending the debate with its well-built ergonomic design, plastic finish, and amazing features like water, temperature, and shock resistance are backed by a warranty of 5 years. Lastly, another point not to be missed that disappoints many users is the 4k file size. This size is the max limit and anything over this will start to create problems.
Thkailar Thumb Drive USB C 256GB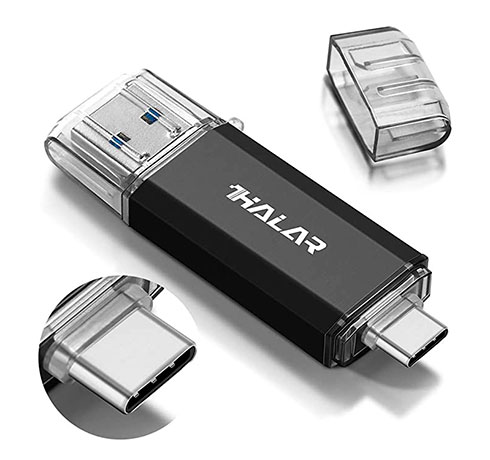 It's pretty amazing that this unpopular dual flash drive is pushing the limits of its counterparts. It is ready to perform the function the second it's plugged into the USB port. Amazingly, it has improved the performance, speed, and storage capacity to meet the workflow requirements.
It ensures a fast data transfer speed of 60-120Mb/s between USB 3.0 and Type C port because of two connectors on both ends. No additional cables are required for exchanging photos or data among smartphones, and PCs. This thumb drive works independently without any software installation or syncing to other devices.
Notably, the tiny gadget delivers durability due to the stainless steel body and the cap keeps it protected from dust and debris. Manage your data with ease by tossing the gadget into either your bag or wallet. There's no indicator light but the features it is offering are more than adequate at a tough-to-beat price.
Must Read: Best Qi Wireless Charger Pads