Best In-home Security Camera-Video Doorbells
Keep an eye out as your front door need to be well-protected. Waiting for your food rider or hiding from nosy neighbors? In-home security camera has enough to offer for keeping you safe and sound. Although these gadgets are new to the tech market but reaching new heights by adding an extra layer of protection.
Doing a quick errand while keeping the children at home is no trouble anymore. The very essence of an In-home security camera is you can see who is at your door from your phone and talk to them before they enter your home. The in-home security camera also has a lot of other features like motion detection, two-way audio, and night vision. Video doorbells are great for security and convenience because you don't have to risk opening the door when you can just talk from the safety of your home. They are easy to install and come with free cloud storage so you never have to worry about data loss.
Popular Recommendation: Best Qi Wireless Charger Pads
Ring 1080p HD Video DoorBell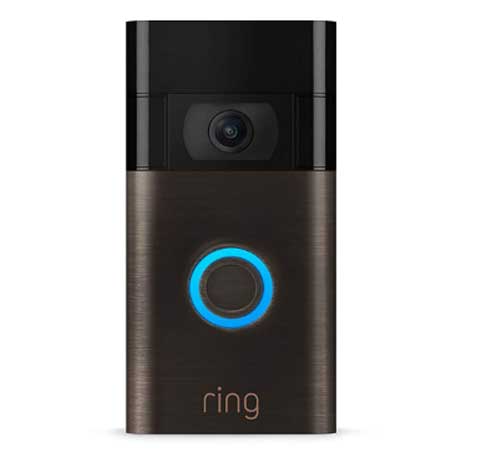 This video doorbell not only looks impressive but also has some premium features that set it apart from conventional doorbells. For a start, it offers two-way audio, motion-activated alerts, live streaming, and prerecorded messages for keeping you safe and sane. The Android and iOS compatible app makes it easy to communicate with the visitors or ask them to leave messages even when you're out somewhere.
Moreover, the high-definition 1080p videos give a clear image of random solicitors waiting at your door from head to toe. Furthermore, the well-built handy and versatile doorbell has the color night vision feature as a great bonus. It detects motion and flashes a light to let strangers know they are being watched.
Amazingly, the installation process is pretty simple and helps to keep the gadget running all day long with rechargeable batteries. Another big positive is its weather-resistance and easy connectivity feature. You can install the doorbell wirelessly at your front door or hardwire it with the previous doorbell. For ultimate security, get yourself a ring protection plan to save footage over a longer period of time.
Google Nest Battery Powered Video Doorbell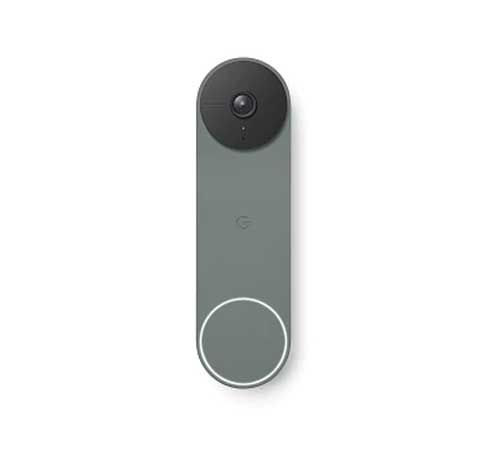 We can't leave out Google Nest from our top-picks Video doorbell. This time Google has nailed the equity right between design, performance, and price. The upgraded version is crafted with a waterproof finish, plug-and-play setup, and a strong set of features at a reasonable price. Its simple yet discrete design gives the flexibility to sit anywhere at the door with a peephole view to monitor whatever going out.
It offers everything from a wide field of view, instant alerts, noise cancellation, and prerecorded quick response, to live streaming and video recording for your home security. Additionally, if you want to go for a wireless option, it gives peace of mind for months without a recharge which is relatively longer than average doorbells.
Some exceptional features not to be missed are the smart built-in sensors, HD video quality, and hand-free capabilities including Alexa and Google Home app. The smart sensors help to differentiate human and non-human sound/motion to minimize false alerts. For unlocking extra smart features like familiar face recognition and activity zones, buy yourself nest aware subscription to get the most value out of your Google Nest Doorbell.
Eufy 2K Resolution Wireless Video Doorbell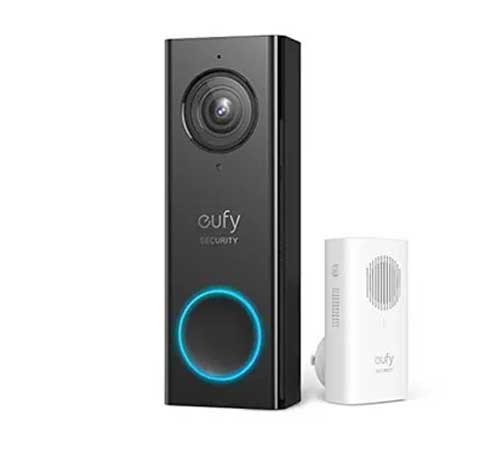 A significant addition to Eufy's home monitoring lineup. With smart controls, color night vision, and exceptional video quality, everything works how it is supposed to be. The sleek matte finish and minimal aesthetic better match the home decor. Further, the 2K battery-operated Eufy doorbell breaks the pattern by adding a wide field of view and hand-free attributes
The major bonus point of having the Eufy doorbell is its data storage capacity with no ongoing cost on subscription-based services. Also, with smart sensors, there's no messing if your front door is busy all day long. It'll only send the notification of what you actually care for, giving you a competitive edge over similar gadgets.
It's an expensive piece of premium gadget with a well-balanced night image and crisp video recording at 1200p resolution. Additionally, works best with Google Assistant, and Alexa. Both of which can sound a tone when the bell rings and with installation flexibility.
Must Read: Best Ergonomic Wireless Mouse On Budget