Best Adjustable LED Lights for Live Streaming
Want to look good at late-night video conferencing and streaming? Having a quality image with perfect lightning can be a bit tricky! But the bright side is that you don't have to be adept at shooting high-end videos with professional lightning. Do yourself a favor and invest some money in adjustable LED light. Broadcast LED computer-mounted lights are super popular on social media, offering pretty lush features at an economical price.
Get hassle-free balanced light for your YouTube Videos, Zoom meetings, and Twitch streaming on the fly. The adjustable LED lights are small enough to fit on top of the screen and offer cinematic color accuracy for creating unflattered images. Also offers great control over light color changes and brightness levels. Interestingly, the lights eradicate unwanted shadows and give a better diffusion to illuminate the face evenly during zoom calls.
Popular Recommendation: Fujifilm Instax Mini Mobile Photo Printer
Lume Cube Lighting Kit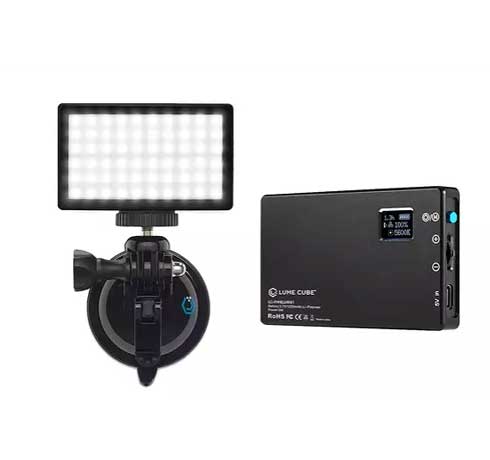 This compact, well-built, and professional quality broadcasting kit is the best way to look good when the camera turns on. It dramatically improves the content quality with a perfect blend of adjustable color temperature and brightness control.
It comes equipped with a suction cup mount, adjustable tripod stand, external white diffuser, and a charging cable for long battery runtime. The aluminum case gives a premium feel and fits easily in the handbag where ever you go. Multiple light color choices from bright white to warm yellow complement the skin tone and adjusted the environment accordingly for even coloration.
Other than that, the digital display makes the entire process easier by showing the color control levels on the screen. So buying a monitor light with a plug-and-play feature will be worth both your time and investment.
Logitech Spectra Glow LED Light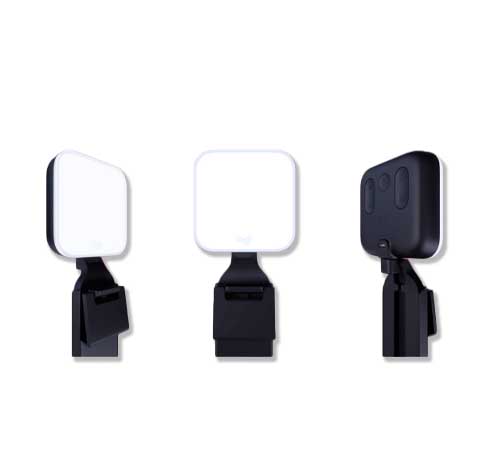 The Logitech glow light is a USB-powered, mobile-sized gadget with a stellar design that offers a bunch of customization and placement options. Logitech Truesoft technology helps wrap the content in a soft, diffused easy-on-eyes look by eliminating harsh/unwanted shadows.
The integrated computer mount is light on weight and extends vertically up to 4 inches. This feature gives easy adjustment of height, tilt, and rotation to get the ultimate lightning position and flawless glow. The physical buttons on the back are easy to find and allow full manual control over brightness and color temperature.
Variable brightness and color temperature levels provide a radiant, natural skin tone that is gentle on the eyes even after long hours of streaming. Moreover, the optics lens works with a frame-less diffuser to illuminate the face like a pro all day long.
Pixel G1s Premium Broadcast Light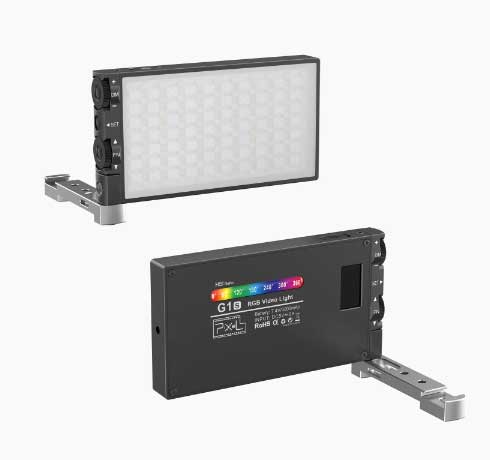 G1s RGB light is an excellent choice for close-up and tabletop video production, comes with everything you need to get started. The versatile design, easy-to-use setup, and loads of extra features make it a perfect fit for content creators. Most notably, the RGB color mode allows adjusting the color hue and saturation level to fine-tune the background for a professional look.
In addition, the Bi-color mode offers 60 different color temperatures to accommodate the light from warm yellow to daylight white. The built quality of G1s adjustable led light is excellent with an aluminum alloy body that weighs less than 260 grams, which means it can easily slip into the pocket over long distances. The battery of Pixel G1s lasts a few hours on the full charge without overheating.
Amazingly, the color spectrum chart is given on the back to equating the numbers with colors. Lastly, the LCD display shows the color adjustment modes, saturation levels, and brightness to make the settings easier for everyone.
So if you're really looking for professional-quality videos and images, consider buying these broadcast lights and elevate your photography game like a pro.