Best 3D Pen Art You Can Buy This Year
Due to the rapid pace and technological changes, it isn't easy to know what is time-testing, more than trends, and what the classroom really needs. 3D design tools and technologies have become an industry-leading open-source platform for anyone to create. 3D pen art is a big hit worldwide as it brings an exciting and fun way to uplift your creativity above the surface of ordinary paper. Three-dimensional modelling is booming at the current juncture of human development. Printing on a 3D plane inspires creativity and improves children's tactile learning.
You might think it's some kind of magic but this is another technological advancement in the field of 3D learning. The 3D pen art is helpful for people of all ages and skill levels but more appealing to kids, artists, and hobbyists. Also, essential during the lessons for creating technical products and performing extracurricular activities. They do not have size limits, you can scale up to virtually unlimited sizes.
How do 3D Pens Work?
Unlike traditional writing and drawing devices, 3D pens filled with plastic thread instead of ink are used for creating clean-looking models. At the back of the case, it has a special hole for inserting the filament. The well-built mechanism automatically applies the ink to the extruder, where it melts and extruded outward into a molten form. The tip is heated to a temperature of 240 ° C, so it works. You must adhere to basic safety rules when using the device. Although, the 3D pen has a built-in fan for the acceleration of the plastic solidification process. Still, a careless attitude towards its usage is related to the risk of burns. The size and design of the pen make it easy to hold with one hand. Slight noise during the activity does not interfere with 3D modelling.
Read Also: Nur-E 75, Pakistan's First Electric Car Prototype
MYNT 3D OLED Display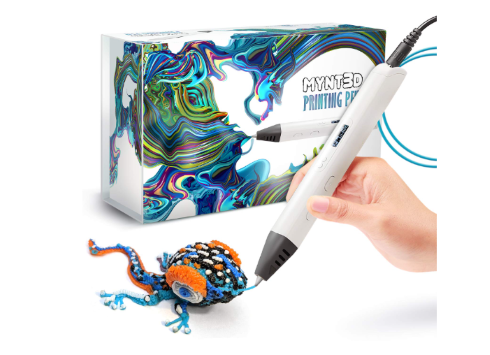 It performs best in almost every category and has earned the title of our top pick. It is the most responsive and well-designed pen with ample features that other pricey 3D pens lack. What really makes it worth buying is the temperature control, readable OLED display, and adjustable speed. Not only this, its compatibility with ABS and PLA filaments, portability, and battery flexibility stands up to our expectations.
It gives complete freedom to adjust the temperature between 130-240C and speed with the help of side control buttons. It can be charged through any corded power, either a USB plug or other adapters. The box contains different filaments to get started without any delay. It'll be hard to find a gadget with the features mentioned above while remaining on a budget.
Pros
Ergonomic design
Intuitive interface
Simple operation
Affordable
Cons
Limited to ABS and PLA filaments
Small cord size (3 feet)
Nozzle heats up quickly
3Doodler Create+ 3D Pen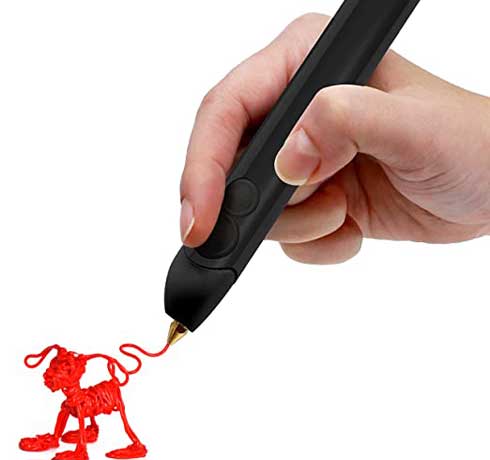 The first 3D pen released has the most ubiquitous design and performs reasonably well right away. It rests in the palm pretty well and offers a perfect combination of safety, well-paced extrusion, and comfort. Its advanced features are appreciated by many professionals who find it very handy and useful without hassle.
One significant aspect of this pen is, that it is practically flexible with different plastic filaments including ABS, PLA, and Flex. So, you don't have to worry about finding a specific filament for its working. Another noticeable plus is the swappable tips help to draw models in multiple thicknesses and sizes from scratch.
The packaging is well equipped with colourful glowy, glossy, matte, and glittered filaments for a more intricate look. Moreover, the cord is slim and flexible but sadly it easily detaches from the power supply and/or pen. Arguably, it is an amazing item of choice and is super slim to move around.
Pros
Lightweight
Easy to hold and draw
Compatible with different plastic filaments
Cons
A little expensive
Metal nozzle/tip gets hot quickly
The burning smell of plastic
The cord pulls out easily from the adapter
No display
SCRIB3D Pen OLED Screen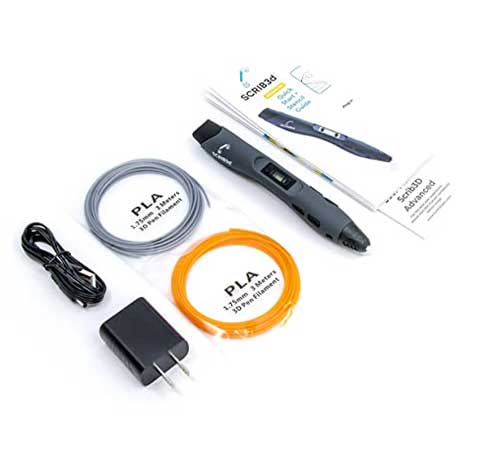 We have all the reasons to add this 3D pen to our list. From its ergonomic grip to an intuitive OLED screen, it features everything to draw your imagination in the real world. The quick boot-up What's great about Scribbler is, that it has adjustable temperature and speed of preference, and a display to observe the status of a 3D pen.
You may also find this surprising that it can work with a different array of filaments. Aside from that, the unclogging and auto-cleaning abilities contribute to more details without mixing colours and being jammed.
Amazingly, it has an auto-shut mode that turns the pen off if not used for 80-90 seconds. Additionally, its little sound doesn't bothersome and does not produce an annoying or nasty smell.
Pros
Stylish and sleek design
Thermal and speed control
Changing filaments is hassle-free
No toxic fumes
Cons
Bulky, difficult to hold
Sometimes, the cleaning mode sucks
Read Also: New Android 13 Features, Privacy and Visual Changes
3D pens are pretty similar to glue guns and new to the market but still, the competition is at its peak. The best bet for a budget-friendly 3D printing pen is 3Doodler because it comes equipped with all the safety features. Also, it gives a more clean and fun experience with its swappable tips and clean mode. And to wind up, 3D pen art is amazingly providing immense beauty to artworks and contributing a lot to the spatial learning of children.